We offer Special Discounts to:
Just some of the information and special offers contained in this website include --
Welcome to our website...

" Arbuckle Electric strives to deliver the best in high-value, and low-priced service "

... Bob Arbuckle Jr., President & Contractor
We offer 24 Hour Emergency Service

Churches
Senior Citizens
Military Personnel
We offer Free Estimates
... thanks so much for your time and interest in Arbuckle Electric and our website. Please take the time to browse through this site to learn more about 'Our Services', 'About Us', and many of our special offerings, discounts, and our industry experience.

And if you still have questions, please feel free to e-mail us at ArbuckleElectric@yahoo.com or call (318) 741-6000!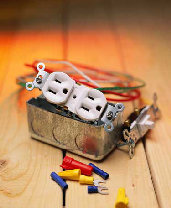 Call (318) 741-6000
Site by: Intellimedia Business & Web Solutions
B
2015